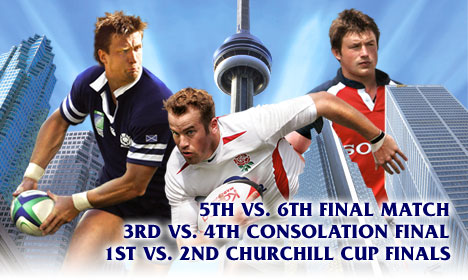 TICKETS ON SALE SOON FOR TORONTO/OTTAWA AND THE FINALS
Commonwealth Games: New Zealand Show Intentions With Strong Squad
February 6, 2006

Wellington, NZ – The New Zealand Rugby Union has named a group of 22 players, including five Rebel Sport Super 14 players, from which the squad of 12 for next month's Rugby Sevens competition at the Commonwealth Games in Melbourne will be selected…
Barclays announces sponsorship of the Churchill CupFebruary 1, 2006Barclays PLC was today (Wednesday 1st February 2006) named as the title sponsor of the Churchill Cup for the next three years with immediate effect…
STEVE BATES TO COACH SCOTLAND'S INAUGURAL CHURCHILL CUP SQUAD
January 27, 2006
The SRU has announced today that Border Reivers head coach Steve Bates will take charge of Scotland's young development squad for the 2006 Churchill Cup in North America…
NAWIRA reports record numbers
January 12, 2006
At the beginning of what is set to be a year to remember for rugby in the NAWIRA region, figures from the end of 2005 show that the number of people playing the sport have never been higher, up 10% on 2004…
Edmonton to host Churchill Cup Finals
January 10, 2006
Edmonton has been selected to host the finals of the Churchill Cup – the biggest rugby tournament in North America. The Churchill Cup will return to Edmonton for the third time in the tournament's four year history next June and the Commonwealth Stadium will host all three finals on one day. The Churchill Cup is a three way partnership between Rugby Canada, USA Rugby and the English Rugby Football Union and the tournament is being expanded to be bigger and better than ever…
Ireland Name Coaching Team
December 16, 2005
The Ireland 'A' team's participation and management team for next June's Churchill Cup competition, to be played in both Canada and the USA, has been confirmed.
An 'A' squad of 28 players will take part in the tournament. The Irish team will be managed by Ulster man Joey Miles, and coached by current Connacht coach Michael Bradley and Ulster coaches Mark McCall and Allen Clarke…
USA leg of Churchill Cup to be played in San Jose
December 13, 2005
In a move intended to boost rugby's U.S. profile, three games of an international tournament known as the Churchill Cup have been scheduled at Buck Shaw Stadium in June.
The games could be the first move to turn the South Bay into the nation's rugby center.
"The Bay Area is steeped in rugby history more than anywhere in the country," said Doug Arnot, chief executive officer of USA Rugby, the sport's national governing body…